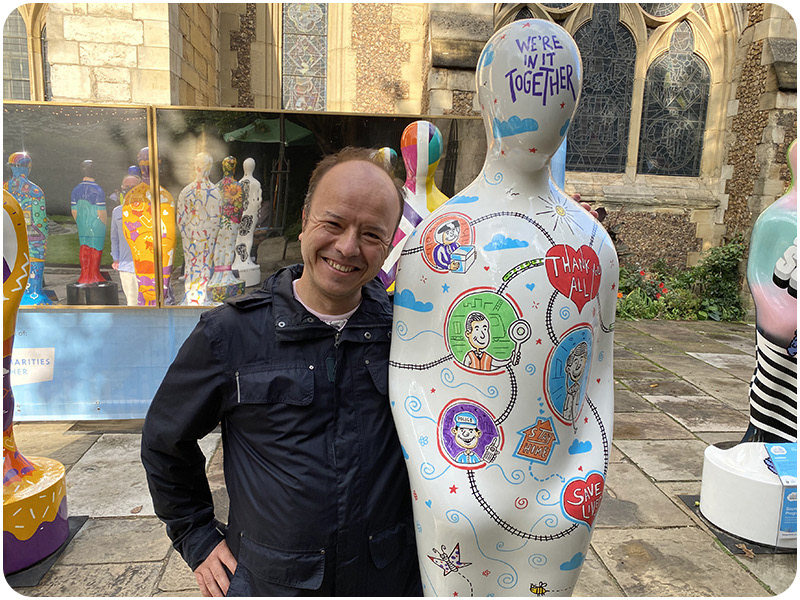 Oguzhan Secir, originally from Istanbul/Turkey, is a London based Illustrator, Cartoonist, Live Scribe Artist and Whiteboard Animator.
Oguzhan graduated from Mechanical Engineering and Master of Business Administration (MBA) in Istanbul. Drawing was a hobby for him since childhood. He started his professional artist career by drawing cartoons for popular Turkish humour magazines such as Leman, Hibir, Girgir in the 1990s.
With years of experience in Illustration, Cartoon, Doodle and Digital Design, he can draw using both digital and analogue tools. After working for digital and creative agencies in Istanbul, he started his own career in the Uk and established Live Doodle Creative Design & Illustration Studio. Live Scribe, Graphic Recording, Remote Live Scribe, Visual Storytelling, Rich Picture, Infographics, Whiteboard Animation and Explainer Videos are also within his primary skills.
He's worked with The UK based and global companies/organisations directly or indirectly via agencies.
Southern Railway, The British Science Association, Siemens Healthineers, Juniper Education, Brighton & Sussex Medical School, DS Smith Packaging Services, NHS Charities Together, Adviseers SAS, The Outlook Creative Group, Speakers Trust, Wild in Art, Emotive, Fresenius Kabi, Sedex Global, Crowe UK, Horwath HTL UK, Pure London Fashion Show, Yucca London Mexican Restaurant, Wacom, UNICEF, Vespa, Unilever and many more.
Events & Seminars he attended physically or connected remotely all over the world as Live Scribe Artist
2021 Adviseers SAS, Infographics for COP26 Presentation, 31 Oct - 12 Nov 2021, Glasgow/UK  
2021 Diabetes Conference (Online), 19-20 Oct 2021, Milton Keynes/UK 
2021 Indiefield Ltd, Focus Group Meeting, 19 Sep 2021, London/UK
2021 Crowe UK, Horwath HTL UK, Future-Proofing The Uk Hotel Industry, 04 Aug 2021, London/UK
2021 Microsoft MPSE Team Meeting (Online), 06 Jun 2021, USA
2021 Siemens Healthineers, Focus Group Meeting (Online), 19 Apr 2021, London/UK
2021 The British Science Assoc. For Thought, 6 Roundtables (Online), Feb-Mar 2021, London/UK
2020 NDPHS, We are in it together, COVID-19 Conference (Online), 03 Dec 2020, Stockholm/Sweden
2020 NDPHS, The Art of Staying Healthy Workshop (Online), 06 Oct 2020, Stockholm/Sweden
2020 NDPHS, Policy Brief Workshop (Online), 30 Sep 2020, Moscow/Russia
2020 NDPHS, Multimorbidity and Ageing Conference (Online), 23 September 2020, Moscow/Russia
2020 Emotive, Fresenius Kabi Booth, ECCO 2020 Congress, 12-15 Feb 2020, Vienna/Austria
2019 Emotive, Fresenius Kabi Booth, EADV 2019 Congress, 9-13 Oct 2019, Madrid/Spain
2019 Sedex Global Conference, 26-27 Mar 2019, London/UK
2019 Virtusa London Workshop, 06 Apr 2019, London/UK
2019 Pure London Fashion Show, 10-12 Feb 2019, Olympia London/UK
2016 Changes in Education Conference, 11-12 Dec 2016, Istanbul/Turkey
2015 Education Technologies Conference, 17-19 Apr 2015, Istanbul/Turkey
2021 This is Gratitude, Southern Railway Press Release, 
View Original
2016 Video Introduction on Linkedin Learning, Inspiring drawers: Oguzhan Secir,
View Original
2015 Video Introduction on Lynda.com, Inspiring drawers: Oguzhan Secir,
View Original
2014 Doodle Art Chosen by Wacom America
2021 Vs Evil Trade Card Series Exhibition, Thought Bubble Festival, 13-14 Nov 2021, Harrogate/UK 
2021 This is Gratitude Auction for NHS Charities,  London/UK
2021 This is Gratitude Exhibition Series, 01-10 Oct, London/UK
2021 This is Gratitude Exhibition Series, 17-26 Sep 2021, Edinburgh/UK
2021 This is Gratitude Exhibition Series, 03-12 Sep 2021, Manchester/UK
2021 This is Gratitude Exhibition Series, 20-30 Aug 2021, Birmingham/UK
2019 Amazing Adventures: An Exhibition of Art Inspired by the Works of Jules Verne - London/UK
2017 Printmaking Exhibition - CKM - Istanbul/Turkey
2019 The Little Trailblazers, A children's book charity project collaboration for Unicef, UK 
2018 Techno Rabbit Tata, Secure internet usage children's book project, Turkey
2012 The Sketchbook Project, The largest collection of volunteer artist sketchbooks, USA